Découvrez notre Chaîne YouTube "Ingénierie et Projets"
Découvrez notre Chaîne Secondaire "Information Neuronale et l'Ingénierie du Cerveau"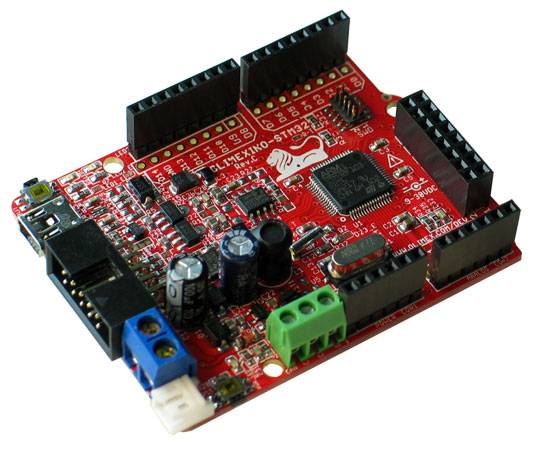 OLIMEXINO-STM32 est un kit de développement basé  sur le microcontrôleur STM32F103RBT6, cette kit  développement dispose d'un brochage compatible avec les modules Arduino. Elle intègre également un connecteur d'extension supplémentaire, différentes Leds de visualisation, un connecteur pour carte mémoire microSD ainsi qu'un un driver de port CAN.
La plage d'alimentation (9 à 20 Vcc), son chargeur de batterie intégré , sa connexion USB, ses différents boutons-poussoirs, ses connecteurs femelles de reprises des ports d'E/S, ses régulateurs séparés pour les alimentations des signaux logiques et analogiques lui confère de nombreuses fonctionnalités novatrices.
Caractéristiques principales du microcontrôleur STM32F103RBT6 :
ARM 32-bit Cortex™-M3 CPU Core

72 MHz de frequence maximale
1.25 DMIPS/MHz

Performance avec un temps d'accès à la mémoire nul !

Multiplication dans une cycle d'horloge
Division matériel

Mémoires

64 ou 128 Kbytes de la mémoire flash
20 Kbytes de SRAM

Clock, reset et gestion de puissance

2.0 à 3.6 V de tension appliquée aux I/Os
POR, PDR, et tension programmable

Détecteur (PVD)

4-à-16 MHz oscillateur Crystal
8 MHz factory-trimmed RC interne
 40 kHz RC interne
PLL pour horloge CPU
Oscillateur 32 kHz pour RTC avec calibration

Faible puissance

Sleep, Stop and Standby modes
Tension VBAT pour RTC et backup registers

2 x 12-bit, 1 µs A/D converters (up to 16 channels)

Dynamique de conversion: 0 à 3.6 V
Dual-sample and hold capability
Capteur de température

DMA

7-canaux de contrôles DMA
Périphériques supportés : timers, ADC, SPIs,

I2Cs et USARTs
Plus de 80  I/O rapides

26/37/51/80 I/Os, tous mapper avec 16 vecteurs d'interruptions
5 V-tolerant

Debug mode

Serial wire debug (SWD) & JTAG interfaces

7 timers

Trois timers de 16-bit , chacun est supérieurs est menue de plus de 4 IC/OC/PWM ou pulse counter et quadrature (incremental)
Timer de 16-bit, PWM pour le Control moteur
2 watchdog timers (Independent and Window)
ysTick timer 24-bit downcounter

Plus de 9 interfaces de  communication

Plus de  2 x I2C interfaces (SMBus/PMBus)
Plus de 3 USARTs (ISO 7816 interface, LIN,

IrDA capability, modem control

Plus de 2 SPIs (18 Mbit/s)
 CAN interface (2.0B Active)
USB 2.0 full-speed interface

CRC calculation unit, 96-bit unique ID
Schéma interne du microcontrôleur STM32F103RBT6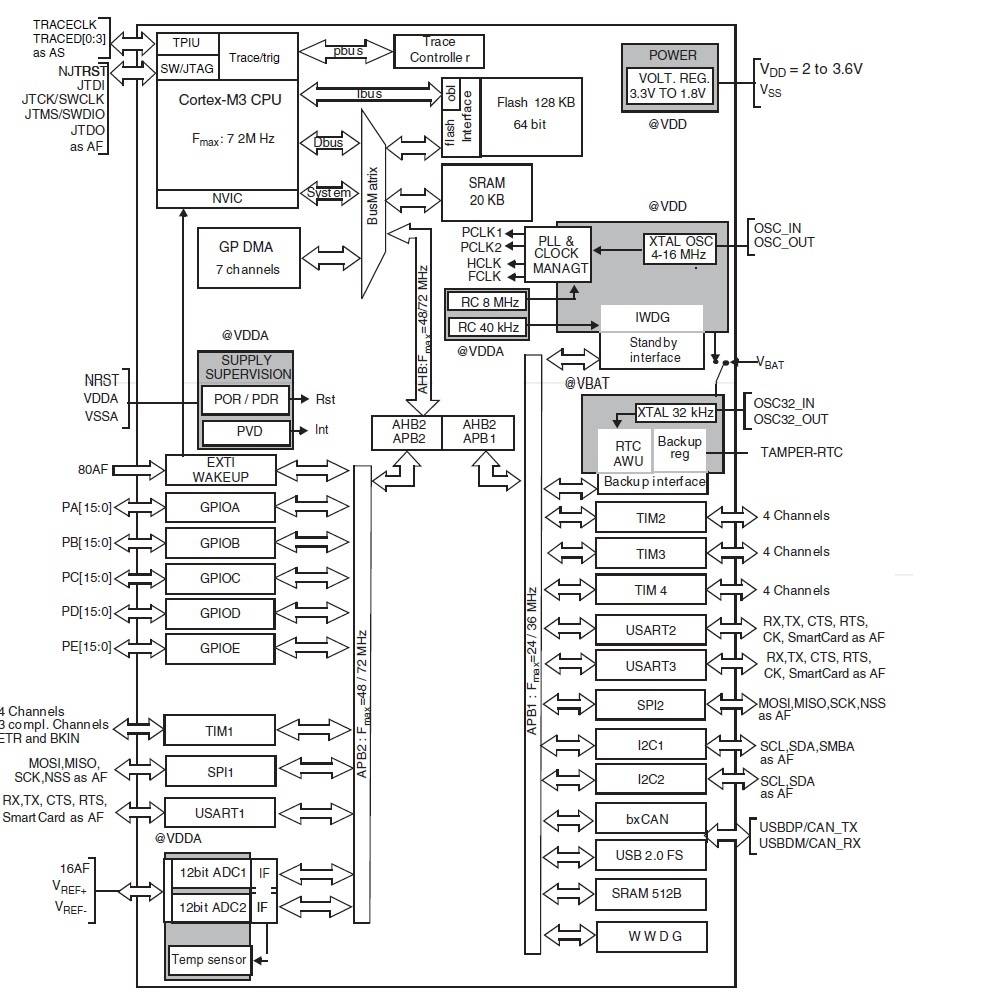 Retour aux kits de développement
Le blog contient des publicités, elles permettent de financer l'hébergement et maintenir le blog en fonctionnement. Vous pouvez utiliser adblock pour une lecture sans publicités.