Découvrez notre Chaîne YouTube "Ingénierie et Projets"
Découvrez notre Chaîne Secondaire "Information Neuronale et l'Ingénierie du Cerveau"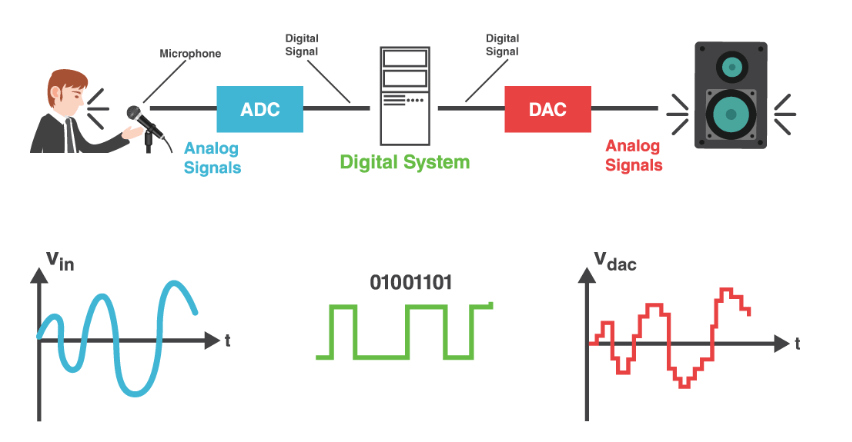 Titre: Conversions analogique – numérique et numérique – analogique
Auteurs: Néant
Ecole/Université: Ecole des Mines
Résumé: Depuis une vingtaine d'années, le traitement numérique des données prend le pas sur les approches purement analogiques. Le recours au numérique permet en effet un stockage aisé de l'information, une excellente reproductibilité des traitements, la possibilité de développer relativement aisément des fonctionnalités complexes, une réduction des coûts de production, etc.
L'interface nécessaire entre le monde analogique et un traitement numérique donné est réalisé par des convertisseurs analogique – numérique (CAN, ou ADC pour Analog to Digital Converter en anglais1) et numérique – analogique (CNA, ou DAC pour Digital to Analog Converter). Le rôle d'un CAN est de convertir un signal analogique en un signal numérique pouvant être traité par une logique numérique, et le rôle d'un CNA est de reconvertir le signal numérique une fois traité en un signal analogique (cf. Fig. I.2).
Extrait du sommaire: Voir le document
Cours divers en électronique 1

Télécharger le fichier PDF: Conversions analogique – numérique et numérique – analogique
Le blog contient des publicités, elles permettent de financer l'hébergement et maintenir le blog en fonctionnement. Vous pouvez utiliser adblock pour une lecture sans publicités.