Découvrez notre Chaîne YouTube "Ingénierie et Projets"
Découvrez notre Chaîne Secondaire "Information Neuronale et l'Ingénierie du Cerveau"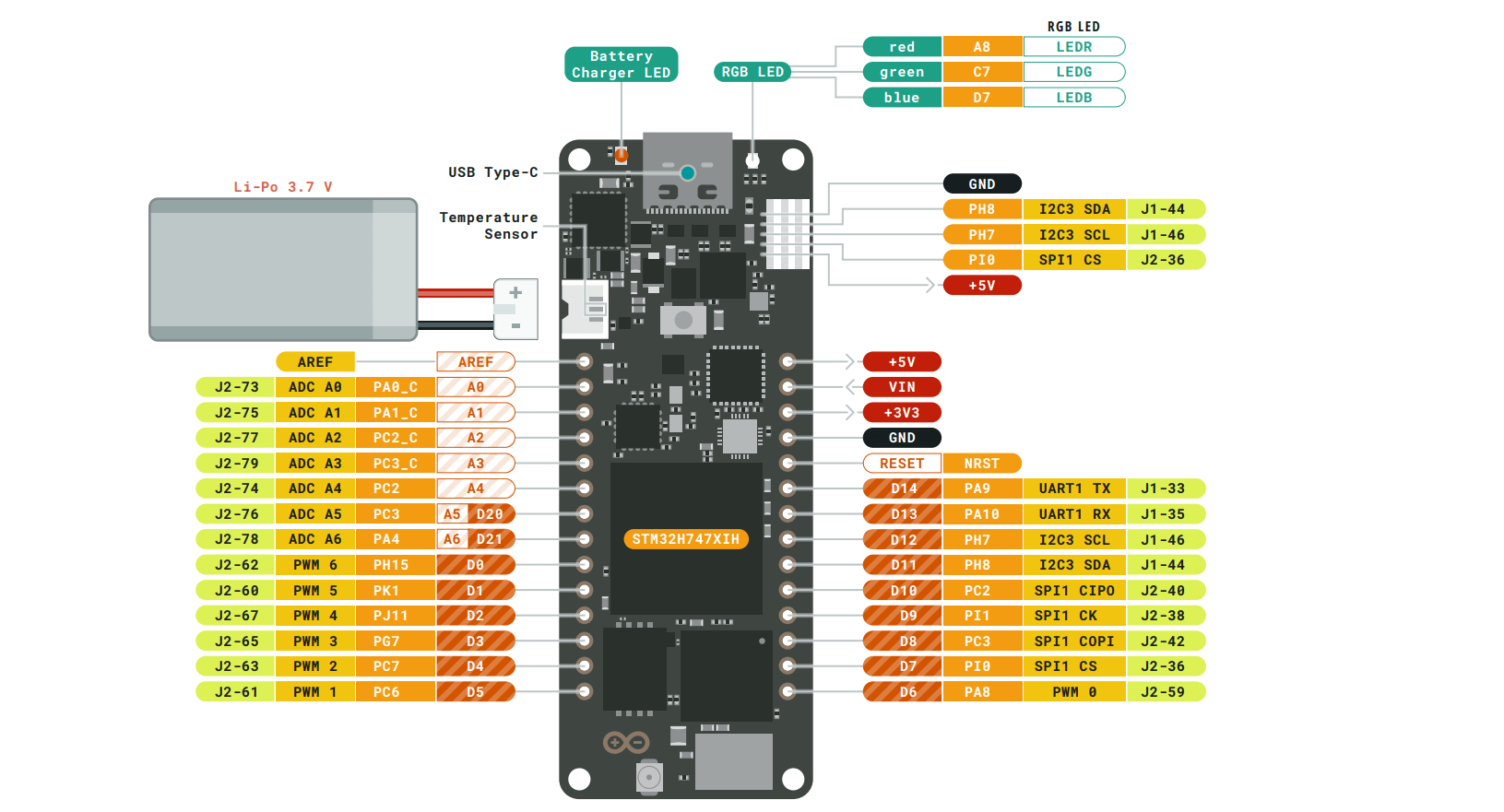 Les caractéristiques de la carte
µC STM32H747XI dual Cortex®-M7+M4 32bit low power Arm® MCU
Modules RF Murata 1DX dual WiFi 802.11b/g/n 65 Mbps and Bluetooth®
Alimentation (USB/VIN) 5V
Alimentation par batteries Li-Po Single Cell, 3.7V, 700mAh Minimum (integrated charger)
Tension des pins 3.3V
Connecteur afficheur MIPI DSI host & MIPI D-PHY
GPU Chrom-ART graphical hardware Accelerator™
TIMERS 22x timers and watchdogs
UART 4x ports (2 with flow control)
ETHERNET PHY 10/100 Mbps
SD CARD Interface for SD Card connector
OPERATIONAL TEMPERATURE -40 °C to +85 °C
HIGH-DENSITY CONNECTORS Two 80 pin connectors
CAMERA INTERFACE 8-bit, up to 80 MHz
DAC 2× 12-bit DAC (1 MHz)
USB-C Host / Device, DisplayPort out, High / Full Speed, Power delivery
Objectifs de la série
La section sera dédiée à l'analyse fréquentielle (spectrale) des signaux en temps réel. Le codage sera effectué en langage C en utilisant la
carte
Arduino
Mega
(Microchip 8-bits @16MHz),
Due
(Microchip 32-bits @84 MHz)
ou Portenta H7
double cœurs (STM32, Arm® Cortex®-M7 @ 480 MHz & Cortex®-M4 @ 240 MHz) afin d'améliorer les performances (vitesse, précision, ressources matérielles, etc.) de nos projets. On va faire appel à Matlab pour faire des simulations et la validation fonctionnelle de nos algorithmes. Ci-dessous une liste non exhaustive des applications de l'analyse spectrale. 
Analyse fréquentielle #8: Algorithme FFT – Simulation

Analyse fréquentielle #9: Algorithme FFT – Implémentation
Le blog contient des publicités, elles permettent de financer l'hébergement et maintenir le blog en fonctionnement. Vous pouvez utiliser adblock pour une lecture sans publicités.