Découvrez notre Chaîne YouTube "Ingénierie et Projets"
Découvrez notre Chaîne Secondaire "Information Neuronale et l'Ingénierie du Cerveau"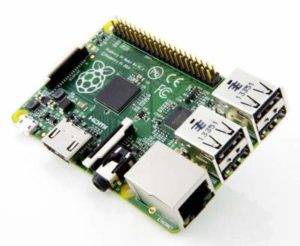 Avant tout le RaspBerry Pi est un nano ordinateur mais il a tout d'un grand !
La carte Raspberry Pi représente une excellente plate-forme électronique de découverte des systèmes Linux embarqués, car elle propose des interfaces d'entrées-sorties nombreuses pour un coût relativement réduit.
Le Raspberry Pi, est un ordinateur qui s'exé­cute sous le système d'exploitation Linux.
Il possède deux ports USB auxquels vous pouvez raccorder un clavier et une souris, et une sortie vidéo HDMI (High-­Definition Multimedia Inter­face) à laquelle vous pouvez  connecter un téléviseur ou un moniteur. Denombreux moniteurs ne possèdent qu'un connecteur VGA et le
Raspberry Pi ne fonctionnera pas avec ce type de sortie. En revanche, si votre  moniteur a un connecteur DVI, il existe des adaptateurs HDMI-DVI bon marché.
On peut pratiquement faire avec un Raspberry Pi tout ce que l'on peut faire avec un ordinateur de bureau sous Linux, à quelques exceptions près. Le Raspberry Pi utilise une carte SD à la place d'un disque dur, bien que l'on puisse le brancher à un disque dur USB. On peut modifier des documents bureautiques, surfer surInternet, et jouer à des jeux. Le prix bas du Raspberry Pi le destine particulièrement à être utilisé comme media center. Il peut lire des vidéos et on peut l'alimenter à partir du port USB que l'on trouve sur de nombreux téléviseurs.
Caractéristiques (Model Pi 2) 
Processeur Broadcom BCM2836 Arm7 Quad Core
Horloge du processeur 900MHz
1 Go de RAM
40pin GPIO
4 x 2 ports USB
4 pôles de sortie stéréo et port vidéo composite
Port HDMI
Port d'appareil photo CSI pour connecter l'appareil photo avec Raspberry Pi
Port d'affichage DSI pour connecter l'écran tactile avec Raspberry Pi
Port Micro SD pour le chargement de votre système d'exploitation et le stockage de données
Source d'alimentation Micro USB
Ethernet port 1 x 10/100
Caractéristiques (Model A) 
Processeur : ARM1176JZF-S (ARMv6) 700 MHz Broadcom 28351(dispose d'un décodeur Broadcam VideoCore IV,  permettant le décodage H.264 FullHD 1080P et d'un VFPv2 pour le calcul des opérations à virgule) ;
RAM : 256 Mo
2 Sorties vidéo : Composite et HDMI
1 Sortie audio stéréo Jack 3 5 mm (sortie son 5.1 sur la prise HDMI)
Unité de lecture-écriture de carte mémoire : SDHC / MMC / SDIO
1 Port USB 2.0
Prise pour alimentation Micro-USB (consommation : 400 mA + périphériques)
Des entrées / sorties supplémentaires sont accessibles directement sur la carte mère via des pins 3v3 55: GPIO,
S2C, I2C, SPI
API logicielle vidéo : OpenGL : version embarquée OpenGL ES 2.0
Décodage vidéo : 1080p30 H.264 high-profile.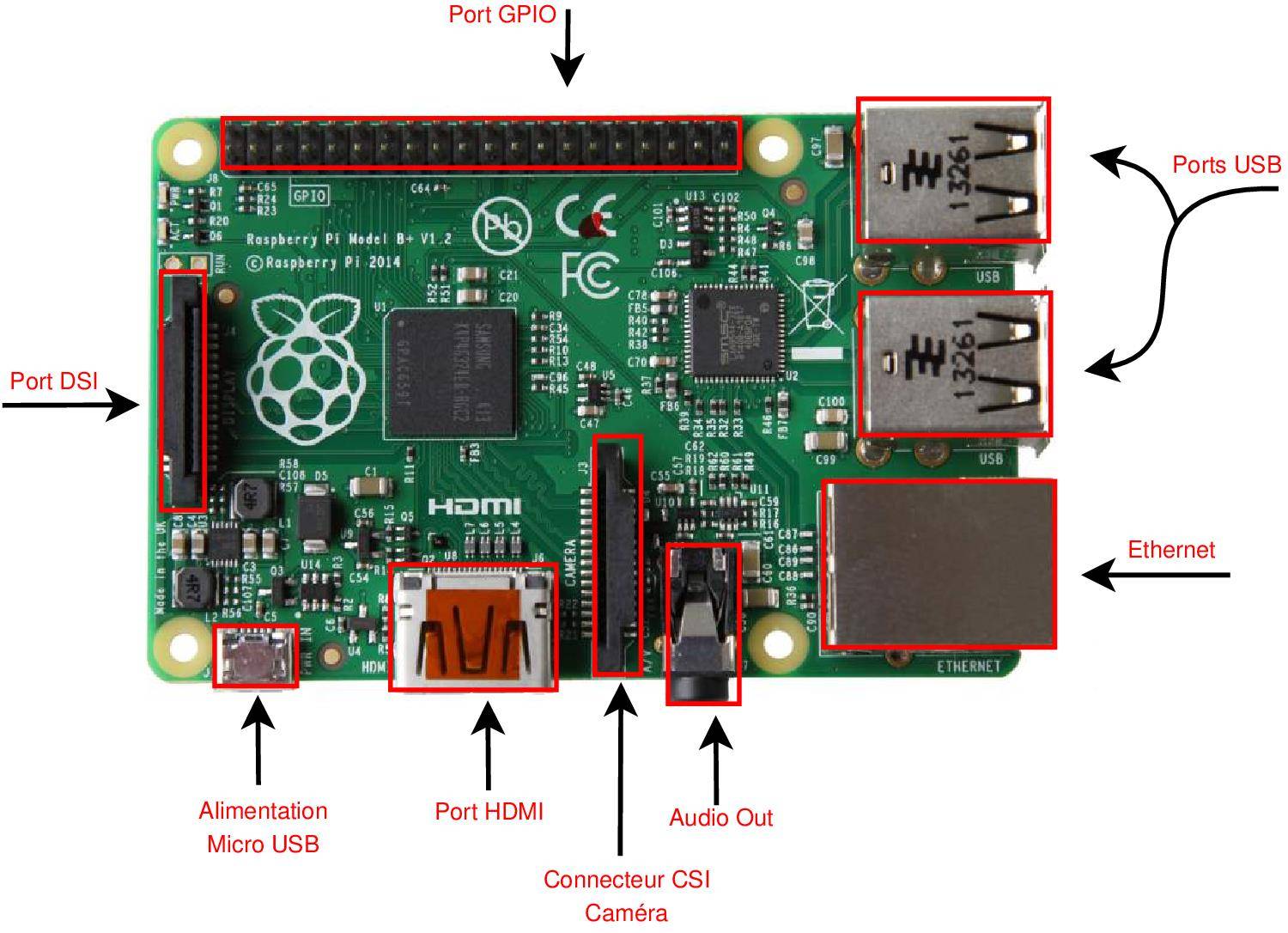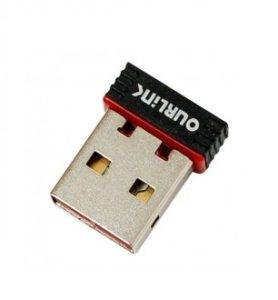 Module Wifi (802.11B/G/N)
Le module Wifi  Tl8192/8188CUS permet à une carte Raspberry pi (A, B, B+ ou 2) de se connecter à internet via Wifi. Le module est équipé d'un port USB qui assure la liaison avec Raspberry pi  et de led d'indication de statut. Connexion facile sur les cartes Raspberry pi. Le module dispose d'une couverture plus de 3 fois de celle de  802.11g !
 Caractéristiques technique :
Référence du modèle : Tl8192/8188CUS
Poids : 2.17g
Réseau standard : IEEE 802.11n (draft), IEEE 802.11g, IEEE 802.11b
Interface Host: High speed USB2.0/1.1
Débit de données : 802.11n: up to 150Mbps (downlink) and up to 150Mbps (uplink) , 802.11g: 54 / 48 / 36 / 24 / 18/ 12 / 9 / 6 Mbps auto fallback, 802.11b: 11 / 5.5 / 2 / 1 Mbps auto fallback
Fréquence de la bande : 2.4GHz ISM (Industrial Scientific Medical) Band
Fréquence RF: 2412 ~ 2462 MHz (North America), 2412 ~ 2472 MHz (Europe), 2412 ~ 2484 MHz (Japan)
Canal radio : 1 ~ 14 channels (Universal Domain Selection)
Couverture : Plus de 3 fois de celle de  802.11g
Type d'antenne : Antenne intégrée
Puissance de sortie RF : 13 ~17 dBm (Typical)
Modulation: 11n: BPSK, QPSK, 16QAM, 64QAM with OFDM, 11g: BPSK, QPSK, 16QAM, 64QAM, OFDM, 11b: DQPSK, DBPSK, DSSS, CCK
Sécurité de données : 64/128-bit WEP Encryption WPA, WPA-PSK, WPA2, WPA2-PSK. TKIP/AES
Réseau : mode automatique 802.11n ou 802.11g ou 802.11b
Media Access Control CSMA/CA with ACK
LED Indicateur de réseau /Active ( Blue )
Température de fonctionnement 0°C to 40°C
Température  stockée -20°C to 75°C
Humidité : 10% ~ 90% (Non Condensing)
Humidité  stockée : 5% ~ 95% (Non Condensing)
Exigences : Port USB 2.0
Retour aux kits de développement
Le blog contient des publicités, elles permettent de financer l'hébergement et maintenir le blog en fonctionnement. Vous pouvez utiliser adblock pour une lecture sans publicités.